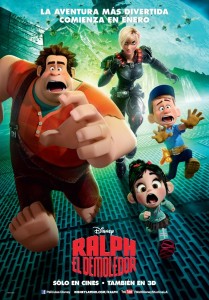 Wreck-It Ralph is the bad guy from an arcade game, 'Fix-It Felix Jr.', inspired by the original Super Mario game. It's his job to destroy a building in a fit of rage, while Felix, the hero (and the gamer) fixes it with his golden hammer, saves the townspeople and gets a medal for his hard work. Thirty years on, and Ralph (John C. Reilly) has had enough, so 'goes turbo', and does the unthinkable – he leaves his game, to prove himself to be a good guy, and get a medal of his own.
As expected, the unique thing about this film is that it plays around with the audience's knowledge of the gaming industry, to great effect. In his first attempt at being the hero, Ralph yells in despair "Why is this game so violent?", while shooting very Alien-esque creatures in a game called 'Hero's Duty', an obvious pastiche of boys' favourite 'Call of Duty'. Despite this, it is still most certainly a family film: both the Bad Guys' support group and Game Central Station have more gaming cameos in there to give hard-core gamers (or those of a certain age), a real buzz of nostalgia and excitement, while the kids will enjoy the fun plot, and characters.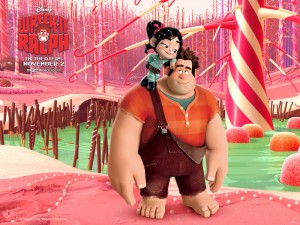 A very important character is Vanellope (Sarah Silverman), in which Ralph comes across in a game called 'Sugar Rush' (inspired by Mario Kart). She is an original character, based on Silverman when she was a girl, after the director read her autobiography, 'The Bedwetter'. Vanellope is apparently just a glitch in her game, bullied by the other characters there, who believe she cannot and should not race with them. She is the one who deals with most of the emotional aspects of the film, even though Ralph is still the main character.
Jane Lynch (Sue Sylvester from Sky 1's Glee) also provides the voice of the captain from 'Hero's Duty', a tough, no-nonsense soldier who captures the heart of Fix-it Felix. As with almost everyone else in the story, I would have liked a bit more development into their relationship, because it was very sweet. But who knows? Maybe they'll get their own sequel?
In conclusion, 'Wreck-It Ralph' is most certainly not in the same league of brilliance as the Toy Story trilogy, but it is good enough to please the younger audiences and those young at heart. 'Paperman', the Oscar-winning animated short shown before the film starts is absolutely amazing.
Rating: 3/5