Are the Daleks to return? Is Pond going to die? Tell us, Amy, tell us!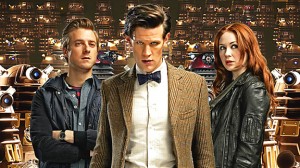 The eagerly awaited Series 7 of Doctor Who returns to our screens early in September, like the previous series this will be split into two, we have 5 episodes in the 1st instalment with the Christmas special dividing the two halves, and in Spring 2013 the concluding 8 episodes. We already know that Amy Pond and Rory Williams will be leaving at the end of the 5th episode, which is devastating for me! However we will see Jenna Louise Cole, formerly of Emmerdale take over the assistant role, as Clara Oswin, we will meet her in the Christmas special which will be set in 1890s London.
Until then we have a lot to look forward to with the Daleks making a dramatic return in the first episode, the team end up in an outer space asylum with little chance of escape, the Doctor has to save not only their lives but Amy and Rory's marriage, which is in meltdown. In the 2nd episode we see the Doctor try to save a spaceship filled with dinosaurs from imminent destruction, and with a rather different set of adventurers by his side he faces a few surprises on the way. In the 3rd episode the Doctor gets his Stetson back as the team head to Americas old west (actually filmed in America) where he meets a cyborg menacing the town and an alien doctor who's hiding a dark secret. Episode number 4 we see mysterious black cubes fall to earth causing mass illness which sees the return of UNIT to the show. And sadly as we reach the 5th episode River Song returns as we say goodbye to Amy and Rory, based in 1930's New York they face the return of the Weeping Angels, we have been promised that this will be a heartbreaking ending for the loveable pair as not everyone will make it out of this episode alive.
Review by Amy Webb